* The Bears came close against the Lions, but ultimately failed. Lions QB Matthew Stafford suffered a dislocated finger on his throwing hand but still led the Lions comeback.
* Matt Barkley continues to impress. If not for back to back holding penalties and then a dropped pass on 4th down, it would have been Barkley leading a comeback win instead of Stafford.
* Bears now face the hated shitheads from Goon Bay this week, in a game I am really really hoping the Bears are up for.
Bears GM Ryan Pace will most likely be watching Matt Barkley's performance. There are no slam dunk first round draft picks at QB this year IMO, so taking one in the first round would be reaching for something that isn't there. If Barkley can continue to be confident competence, he would be a next year option that gives Pace the luxury of going for a quality defender in the first round and taking a QB later.
I am really hoping Matt Barkley does pan out to become a reliable steady starter for the next few years. The Bears have been masters at screwing up in QB selections in spite of their best efforts not to, so it would be wonderful if random dumb luck does for the team what years of trying couldn't accomplish. Barkley became a Bear by accident and happenstance, so qualifies as the piece of random dumb luck becoming successful. And not to whine into my beer too much, but I think it is high time the Bears had something like this go their way. So I am really rooting for Barkley.
The injured and disheveled Bears defense continues to impress. The big positive to what they have been fighting through is getting young replacements seasoned during this lost year so they can be solid contributors in what will hopefully be a much more successful 2017.
There have been rumors that Bill Polian, a former high quality NFL executive, might be pondering a return to the NFL. So of course rumors of Chicago being his potential landing spot immediately began to swirl. As of now, they remain simply rumors and speculation. But it sure would be nice to have a top dog like that running the football side of the house, working with Pace and the Head Coach (currently John Fox) to rebuild and move forward, and keeping the football side separate from the business side.
The Bears haven't had to worry about keeping the business side separate, and it is our (the fans) fault. Because regardless of what kind of putrid ass slurping band of rejects they put on the field in Bears blue, they still make money. Regardless of losing games by having hated rivals put 55 points on their sorry asses, they still make money. Regardless of having 3 years in a row added together not equaling 10 wins, they still make money.
Yeah OK, Virginia made public comments about the quality of the team and the need to improve, as did her son George, but was that just lip service? Because the quotes from assclown Ted Phillips had nothing to do with improving the team, or even caring about the team, just concern over the profit line. He doesn't care if fans don't show up because he has already counted their money from the tickets sold that weren't used.
Years of futility, and we're still fans. Years of the team not caring about us doesn't stop us from caring about the team.
We're slightly demented masochists, so we deserve some of it. But there is no way we deserve the pigshit on a platter the Bears have been serving up and calling it prime steak.
But it doesn't matter to people like Phillips what we deserve or what we want as long as we're stupid enough to keep giving him what he wants. So a move like hiring Bill Polian and forcing Phillips to keep his hands out of the football side of things would go a long long way to securing an actual rebuilding process that can work. If not Polian, someone similar perhaps? Bill Parcells immediately comes to mind as a viable candidate strong on the football side who would have no trouble kicking Phillips in the ass and out of the way. But Parcells already rejected the bears once, and has made no move to come back to the NFL in any capacity. So I guess we'll just wait and see if the rumors end up with any validity.
~~~
Weekly picks -
Last week = 9-7
Season = 119-87-2
Goon Bay Packers @ Chicago Bears - I have a deep feeling in my gut the Bears are going to win this game (it's either that or residue from chili cheese dogs ... I choose the Bears winning).
Erin Rodgers is gimpy, and it is going to be cold. Make him run. Chase his ass, hit him whenever possible. See if one or both of his gimpy legs give out on him. I'd like to hear the sound of his hamstring popping right through my tv.
I think Barkley is going to be fired up knowing he can truly establish himself in Chicago with a win over the Packers. And he will have the helping hands of Alshon available to assist him.
Bears win and they will put a serious dent in Goon Bay's playoff hopes, and I am all for that.
A win this Sunday in Chicago can be THE shining light on a total shit season. The Bears have to reach down for any last bit of pride and integrity and make it happen.
Bears 26
Goon Bay 20
The rest of my week 15 picks (home team in CAPS) :
SEATTLE over Los Angeles
Miami over NY JETS
BUFFALO over Cleveland
Pittsburgh over CINCINNATI
KANSAS CITY over Tennessee
MINNESOTA over Indianapolis
Detroit over NY GIANTS
BALTIMORE over Philadelphia
HOUSTON over Jacksonville
ATLANTA over San Francisco
ARIZONA over New Orleans
New England over DENVER
Oakland over San Diego
DALLAS over Tampa Bay
WASHINGTON over Carolina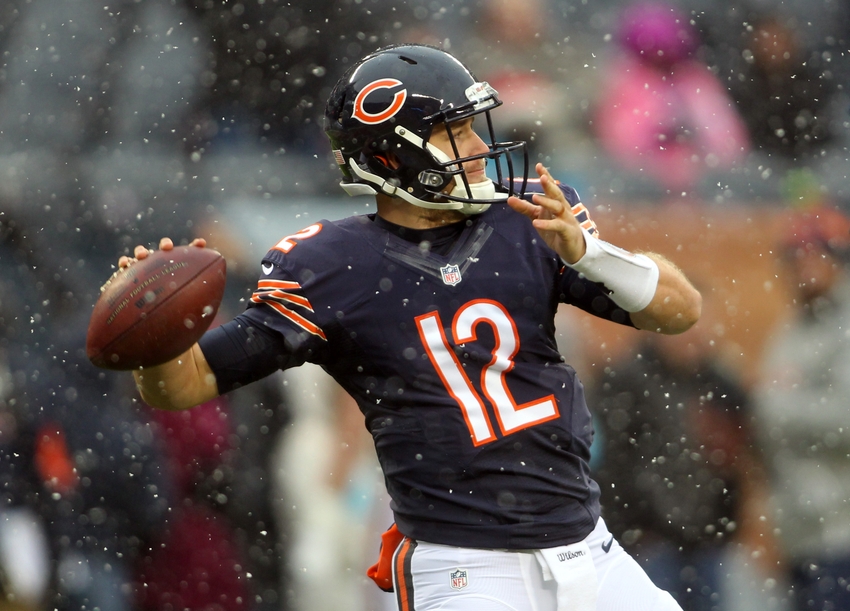 Barkley & Howard to the rescue